Pastoral Letter
from Revd. Malcolm Hickox
Dear Friends,
"There is a crack in everything, thatís how the light gets in"
As I write this letter I still have a sense of numbness created by stories from across the world in the last week. It started on November 9th with the news that the United States had elected Donald Trump as its new President after a hard fought, bitter and divisive campaign. As the President and Vice President of the British Methodist Conference have acknowledged, much of what Donald Trump said during his campaign was profoundly at odds with t
he beliefs and values of our Church. In particular, our understanding of Godís purpose that all people are valued and should be treated with dignity and respect. Such beliefs cannot be reconciled with Donald Trumpís comments about women or his support of torture and the mistreatment of prisoners; neither can they be reconciled with his rhetoric directed at immigrants and people of different faiths.
To his credit, Donald Trump has now called for the people of the United States to come together in unity and the Bishops of the United Methodist Church in America have made a similar plea. The great difficulty is that the USA is split between those who are in great pain and those who are celebrating and the prospect of wounds being healed seems a distant dream. In fact, the divisions have been more pronounced and I was deeply troubled to hear that the West End United Methodist Church, which friends of mine attend in Tennessee, had been vandalised. The banner outside, which said, "God loves everyone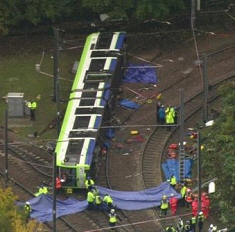 unconditionally" was stolen and Swastikas were carved on the church doors.
The same morning as I was listening to the US election results I heard about the tram accident in Croydon. At that stage it wasnít on the national news, my sister, who lives half a mile from the site, sent a Facebook message. Until I left Croydon I lived just a few minutesí walk from where the accident took place and the news that seven people had died and another 50 were injured left me in shock. A few days later New Zealand was hit by an earthquake, fortunately not as severe as the one in 2011, but still frightening. Having been to Christchurch on my sabbatical last year and seen the terrible destruction
from the previous earthquake and driven along the beautiful South Island coast road that was now blocked I felt involved. Added to which, we have relatives living just outside Wellington who were hit by aftershocks and that made it personal.
At times like this it is easy to be overwhelmed and people find strength and comfort from a variety of sources. Over the years words from the Canadian singer, songwriter and poet, Leonard Cohen, have provided inspiration for some, so the news that he died unexpectedly the night before the US Presidential election was a blow to them. In recent days the words of his song ĎAnthemí have helped me to see the events I have written about in a new way:
The birds they sang at the break of day
Start again I heard them say
Donít dwell on what has passed away or what is yet to be.
Ah the wars they will be fought again
The holy dove She will be caught again
bought and sold and bought again, the dove is never free.
Ring the bells that still can ring, forget your perfect offering
There is a crack in everything, thatís how the light gets in.
Advent is essentially the season of light and as we watch and wait we are reminded that Godís light came into the world in the vulnerable life of the Christ Child. The events surrounding the birth of Jesus are full of wonder and mystery and the constant word from the angels is "Do not be afraid!" That God should choose the young Mary to mother Jesus; that her and Josephís circumstances were questionable; that the birth took place in an occupied country in such poverty; and that those who first heard the news were considered outsiders, reminds us that Godís light comes in unexpected ways. In other words, Godís light comes to us through the cracks in our world to bring hope. The West End United Methodist Church in Tennessee has a vision of a better world, which I trust will sustain its members as they face intimidation, but I trust it will also challenge us as we journey through Advent:
We believe that West End is called by God to be and becomeÖ
The LOVING LIGHT of CHRIST: Connecting, Transforming
Every blessing,