central church bi-centenary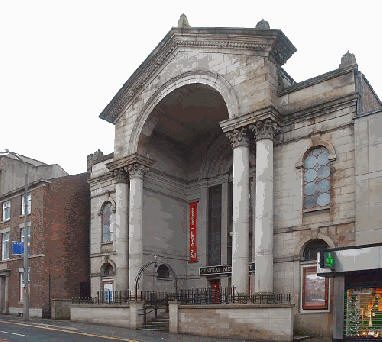 This year our friends at Central Methodist Church have been celebrating the 200th birthday of the Church. That is a remarkable achievement and I know that many people at Fulwood will have taken part in the celebrations and rejoice that there is still a Methodist presence at the very centre of Preston.
Perhaps fewer people will know that the minister at Central, the Rev. Sue Creighton is also the chaplain to Ribbleton Avenue Methodist Junior School in Preston. Rev Sue as she is known there has become a very popular and much loved figure at the school in recent years and I, as Chairman of the Governing Body, want to thank her for her support.
The purpose of this article though is to report that late in November the school paid two visits to Central as part of the Church's celebrations. On two successive afternoons over 100 children boarded buses (funded by Central themselves) and presented a play which told the story of 200 years of Methodism in the centre of the town and city. The play had been specially researched and written by Melody, who works closely with several of the Methodist schools in Lancashire on behalf of the Methodist District. The children were well prepared and performed really well, remembering their lines and movements with great precision. The afternoon finished with some rousing singing - not Charles Wesley to be sure, but songs which celebrated the love of God for us, with real energy.
It is good to have a school with which the Methodist Church can be associated in Preston. Several Methodists serve on the Governing Body of the school or act as volunteers there. We could do with some more help - do talk to me or Sue Penrith if you think you could help from time to time.
Early in 2018, the Theatre Visit Group will be funding some 20 or so pupils to go to see A Christmas Carol at Bolton Octagon Theatre. A similar number had a great time a couple of years ago when we went to see 'The BFG' and, for some of them, it was their first visit to the theatre. We still treasure the letters of thanks they sent to us afterwards.
The existence of faith-based schools gives rise to differing opinions in our society today. Being involved with such a school has demonstrated to me that where such schools seek to meet the needs of the pupils in their community and the well-being of the whole of the society they can make a very worthwhile contribution indeed.
Ken Wales