Arnold Barker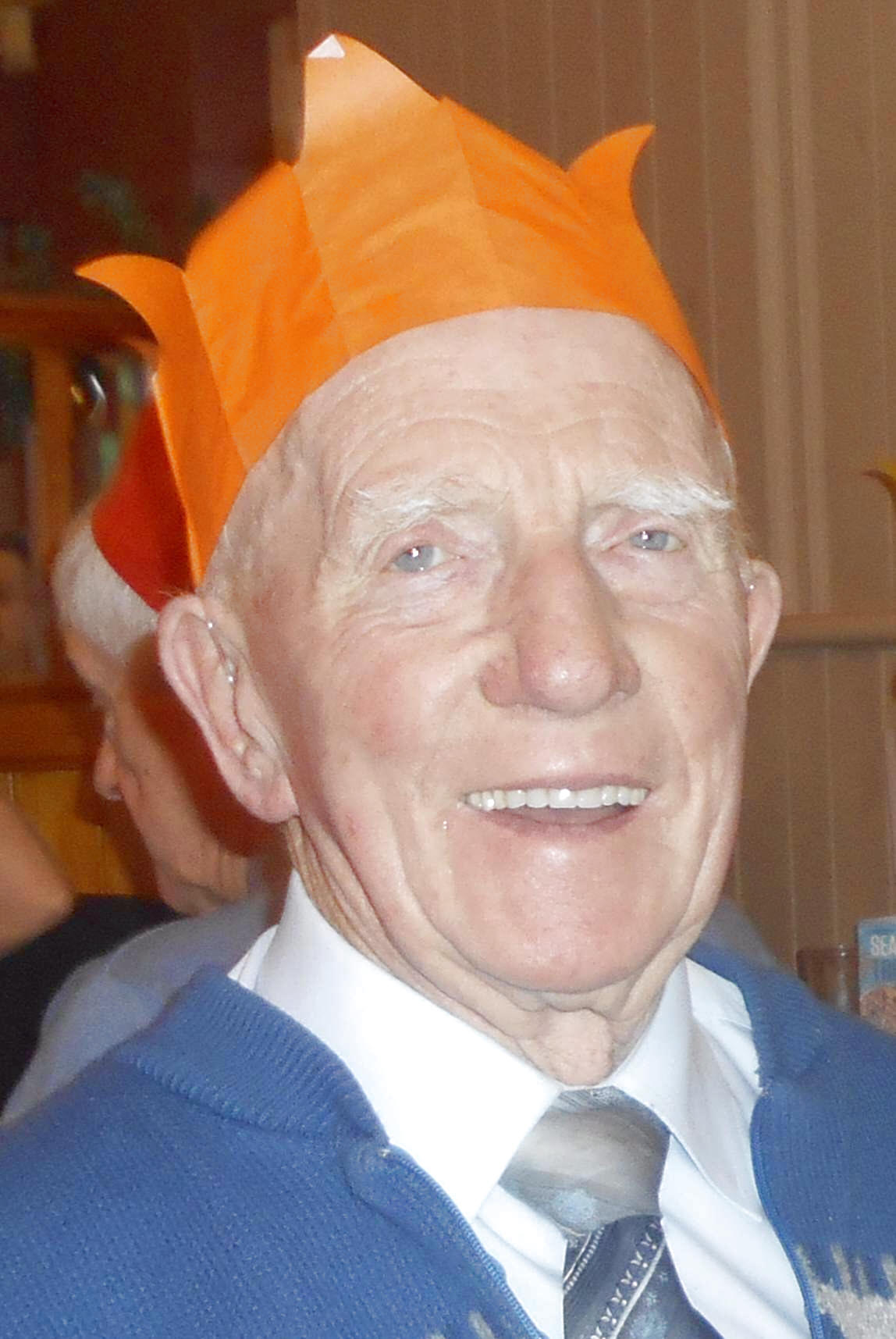 Dad was born in Victoria Terrace Nursing Home, Leyland on 9th January, 1932, the older of 2 boys. He attended Leyland Methodist School until he went to Yewlands Drive Senior School where he passed the entrance exam to go to the Harris Institute Junior Technical College in Corporation Street, Preston. It was while he was there that he decided to go into the textile industry.
The North Lancashire Textile Association was offering 9 students a year training and a job of work when leaving the College, so instead of doing woodwork and metal work, he did spinning and weaving. He then spent the next 47 years in textiles. Working at John Liver's Mill, Horrock's, Leas and then later the Prison Service, where he worked as a Civilian Weaving Instructor for 30 years. He worked at Kirkham, Preston, Wymott and Garth, every day offering a new challenge, dealing with the inmates (or 'some rum lads', as he referred to them).
While growing up in Leyland he was a member of the 1st Leyland Life Boys and Boys Brigade. He became the Captain of the Boys Brigade for a short time before moving to Fulwood.
As he was Assistant Secretary for the Sunday School, the Headmaster of the Day School would often send him to the TSB Bank in Chapel Brow with £100 or £200 in a bag, especially during the Savings Weeks during the war. He was only 10 or 11 at the time.
With Clubland, he enjoyed Easter and September holidays in different Church Schools at Ambleside, Sandylands and Green Street in Morecambe and at Churchtown near Southport. He also went to Fairbourne, the Wesley Guild Holiday Home across the river from Barmouth. He was Head Boy for Clubland.
0 He then went on holiday to Willersley Castle, in Derbyshire, where he met his future wife, Joan. She was waiting on in the dining room and as he left the dining room said, "If that lad keeps looking at me, I'll pour this soup down his neck". Whilst on a boat on the river he said that he would throw her in if she would not marry him and as she had plaster of Paris on both feet how could she refuse! Eventually they got engaged and then married on 3rd September 1955 and spent 56½ years together.
Judith was born in 1958 and Philip in 1964. In 1970 Eileen (Little Smiler) joined the family and was fostered until her death in 1982.
He loved his grandchildren, Matt and Alex, and looked forward to taking them on outings in their school holidays. He was very proud of them and what they have achieved.
He had many enjoyable family holidays, staying in many parts of the country, and in many different cottages - on riding schools, next to a smithy, even on Lady Walpole's estate. Once we left home Mum and Dad started caravanning and cruising.
After Mum died, he sold the caravan and went on coach holidays – nearly every month, except April and May, when he had to see to his plants, and December, as it was also a busy month. He also enjoyed trips to Spain with Mike and Judith.
Mum and Dad enjoyed dancing, caravanning, and meeting friends and family. They were members of Fulwood Methodist Church and Arnold was the Sunday School Superintendent for 12 years. During this time there was a Preston Guild where the Church decided they would do the 'Good Samaritan', and that they would use a real donkey. They had to have 2 as one wouldn't come without the other. Whilst in the parade Arnold could be seen pulling / encouraging the donkeys when they got to zebra crossings as the donkeys did not like them!
He has also been a NCH and League of Light Secretary, a Church Trustee on the Church Council, Communion Steward, Door Steward, Flower Distributor and Pastoral Visitor.
When Ingol Methodist Church started up, Mum and Dad decided that it needed support, so they would attend Ingol in the morning and Fulwood in the evening. Dad got involved in helping with painting and other jobs he could do.
When Mum died in 2012, Dad decided that he would be of service to others and he continued as a Pastoral Visitor which he had done with Mum – visiting many people in care homes and hospital. He was a driver for the Royal Voluntary Service delivering library books to the housebound for 20 years and was doing this up until he became ill.
He also took up walking with the local Ramblers Club (although they had to tell him if the walk had many stiles or was too steep as he struggled with these), and his niece.
Dad's hobby was gardening and his garden always look beautiful with the plants he had grown from cuttings or seed. Not satisfied with working in his own garden he also kept the gardens tidy and mowed lawns for at least three other people.
In recent years Judith often spoke to his answering machine and had to make an appointment to see him as he was never in. Dad was always one for helping others – whether mending cars or DIY.
Dad said he'd had a good life and enjoyed his 85 years, which was not surprising when to him the only thing better than one dessert at a meal, was two.
Philip Barker