Geoff Oliver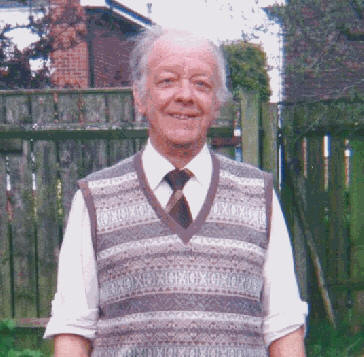 Geoff was born in Preston on Cottam Lane. He lost his mother when he was 11 and went to live with mother's grandparents and sister. At 15 he became an apprentice tool maker following his dad at English Electric.
Geoff was conscripted at 21. This was delayed because of his apprenticeship, but he was not best pleased that he had to go the day after his 21st birthday.
He hated the Army, even though he saw lots of trains and managed to go on courses that were convenient to him seeing trains. During this time he was a member of the Bisley shooting team despite never liking guns. After leaving the Army he moved to Manchester. There he met a girl called Alma in 1952, at a dance in Belle Vue. He is reputed to have asked her what she did for a living and when she answered that she worked at Gorton rail works he answered, "You're wonderful, that's the girl for me". They married in 1953 and the next year Diane was born, followed a few years later by Lynne.
When Alma's parents died they moved to Bedfordshire where Geoff worked in engineering. In his spare time he continued bird watching and train spotting.
Alma wanted to come home and the working hours available to Geoff had been reduced, so the day after Diane's 'A' levels finished the family moved to St. Annes where they kept a shop, although Geoff at times continued engineering work all over the country. In 1987 he moved to Preston full time.
In 2011 Alma died after 58 years of marriage. Geoff liked being outside and was keen on the conservation element. He had a big interest in the environment, not just birds, but was entranced on the occasion when he saw his first adder.
He was proud of all the family; both his children "our girls", and he adored his grandchildren.