pastoral letter
from the Minister
Rev. Jane Wild
Dear Friends
In the traditional religious pictures of the Orthodox Church, it is not unusual for the burning bush (through which Moses heard the voice of God) to be the sign of the Virgin Mary. There is a link made between times when God appeared to Moses and revealed his name and the appearance of God to Mary to announce the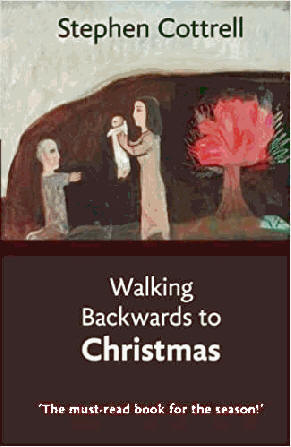 coming of Jesus, through whom the word is made flesh. This idea is seen in a picture by Albert Herbert 'Nativity with Burning Bush' that inspired Stephen Cottrell to use the idea of walking backwards to Christmas to re-tell the Nativity Story.
The great advantage of walking backward is an overview of where you have been. We can look at the wealth of human experience of God that leads to the birth of Jesus and explore how God's covenant with his people is an eternal promise.
The great disadvantage of walking backwards is that you cannot see where you are going. So if we look at the Christmas story in this way, it becomes new and surprising. Perhaps using our imagination to look at the Advent and Christmas story this way can help us to see it afresh. What would it be like if we were waiting like Anna, Elizabeth and Mary? Caught unawares like Joseph? Challenged to great effort and expense to be in the presence of God, like the Wise Men, or called to be with God in the middle of the night, like the shepherds?
So, as we remember and relive the incarnation this year, my hope is that, whichever angle we look at it from, we may grow in peace and love.
Best Wishes for a God-filled Christmas and New Year.
Jane Wild
(click cover for details)