Book Club
Fulwood Methodist Church Book Club continues to thrive, to read and discuss a variety of books and to eat chocolate biscuits. Our meetings are advertised on the Church web site and the weekly notices. We would be very happy to welcome new faces so if this might be your scene, do come along and give us a try. You don't even have to have read the books we are discussing: although it does add to the fun when our members do read them beforehand.
Since the summer, but before the publication of this edition of the magazine, we will have held three meetings.
First off, and this sounds rather grand, we read a biography of Heinrich Schliemann, called 'Priam's Gold'. What a story that was. First we learnt about Schliemann as a German businessman who made a vast fortune from indigo. He was a truly, and perhaps sadly, driven-man who appeared to put himself and his business before any other consideration. Then we learnt about his highly controversial work as an archaeologist. Using his fortune, he was able to spend years discovering some of the middle-east's most famous historical sites including, most dramatically, Troy. One of our number had visited Troy and seen at first hand what is a rather small but very complex site, much of which had been excavated by Schliemann in a much more primitive way than archaeologists of today would follow. Then finally, the book asked what became of the many treasures he discovered? Here the book, for me, was at its most fascinating and disturbing for it developed into a commentary of the way that thousands of priceless works of art and ancient treasures had gone missing, or were simply destroyed, during the second world war and in its aftermath.
This was one of the best meetings we have had. A book and topic which has opened other doors in the personal reading lists we have for over the winter months.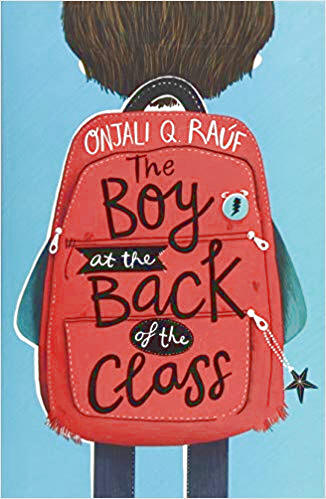 Next up, we met to discuss Onjali Q Rauf's recently written children's book called 'The Boy at the Back of the Class'. If you have a 9 - 12 year old in your family I cannot recommend this book strongly enough. It has been very widely publicised and is now on a short list of books being considered for a major prize for children's fiction. Until I read this book, I knew nothing of this author. But then by chance I mentioned her on Facebook and was contacted by Rev. Micky Youngson, the current President of the Methodist Conference, who surprised me by saying Onjali was a personal friend of hers. Well, since then, I have been in contact with Onjali several times. It is possible that in 2019 she will be coming to Preston and, if so, we will try to arrange an event where you could meet her.
The book is set in a primary school. One day, a child appears at the back of the class who is clearly a stranger and who is shy and withdrawn. An adult helper is with him. A small group of children are intrigued and slowly seek to befriend him. It isn't easy and takes time but just as his confidence grows the possibility arises that he may have to leave the school to be deported. I won't spoil the story beyond saying that it develops into a most heart-warming tale of friendship, courage, determination and kindness as a small group of children take on the powers that be so he can remain here.
Onjali tells me that she wrote the story to answer a question which arose in her mind on one of her visits to the refugee camps in Calais. Namely, if any of these children came to England, what fate might await them in a local school. Friends, this is a wonderful book - do please read it and encourage others to do so too.
In early December we will be meeting to discuss some Christmas reading. More about that in the next magazine. Then, we will be reading some very interesting books in 2019. Please look at the Church website for more information.
Ken Wales