A FARRAGO
Thursday, 20th December at 7.00pm is Radio Lancashire's annual 'Lancashire Sings Christmas' this year.

The name Margaret Lambert (nee Smith) will be familiar to some; these days she spends some of her time as a volunteer guide at the National Trust's Rufford Old Hall and the environment has clearly inspired her to write an historical novel entitled 'The Rufford Rose' (Clink Street Publishing). It features the building of the great hall, the people concerned and the effects upon the locality – all set against a sixteenth century background. There are plenty of facts in there, as well as fiction, and Margaret has obviously done a great deal of research to bring it all to fruition. The book comes in paperback form and there's a Kindle edition too. (Read the Lancashire Evening Post article here)
Sadly, by the time you read this, you will have missed the opportunity to visit the hall, with a view to buying a copy of 'The Rufford Rose' and to have it signed by Margaret (on Thursday, 29th November).

The President and Vice President of the Methodist Conference are scheduled to visit the Lancashire District in mid- February.

The Rev. Dr. Barbara Glasson & Professor Clive Marsh are the next President- elect and Vice President-elect of the Methodist Conference for 2019 – 2020.

The Rev. Phil Maudsley, Curate of neighbouring Christ Church, will soon be moving to Moston, north Manchester, and we wish him well in his new posting.

Mention of the Lancashire Post serves as a reminder that it continues to regularly publish short stories provided by one of our church members, Barry Crossley.

Our mention of the purple poppies in memory of all the animals (and birds) killed in the First World War brought an enquiry from someone wanting to know where to obtain such. Veronica thinks the knitters might hold it in mind for next year.

Another WWI fact: 1,400 church bell ringers lost their live in the conflict. Their names are inscribed on a roll of honour held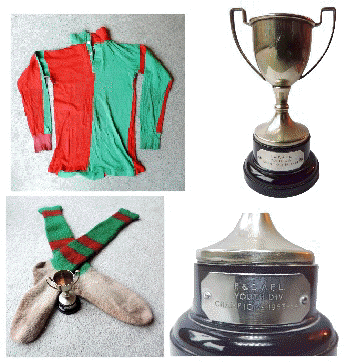 by the Central Council of Bell Ringers and displayed in St Paul's Cathedral.
Lancashire Post, Saturday, 20th October, 2018 – Your Memories, October 1980 – included a photo of the FMC Cubs' swimming team, winners of the Laura Berry Memorial Trophy. Member included Glynn Budden, Douglas Johnson, Stephen & Paul Bartlett, Matthew Bell, Alex Greenwood & Roger Whittall.
Even more information concerning 'The Pied Pipers', FMC's highly successful football team of the early 1950s: Beryl Duckworth (née Fletcher) recognised almost all of the names we listed. Also, among Basil's memorabilia, she has discovered a miniature cup – in almost mint condition – but for a slightly later date: champions in the 1953 - 54 season. Believe it or not there is also one of the actual jerseys (red and green halves) and some socks (two pairs). These you really must see!! (Larger - click here)
Other folks' church magazines, newsletters and weekly information sheets have arrived from the following places: Ashton Methodist Church; Bath Abbey; Bolton – The Triangle Community Methodist Church; Bolton-le-Sands – Holy Trinity; Bournemouth area – Highcliffe Methodist Church; Brindle – St James'; Fulwood – Christ Church; Fulwood URC; Goosnargh – St Francis (Hill Chapel); Isles of Scilly Methodist Circuit; Longridge – Knowle Green Congregational Church; Oakworth Methodist Church; Peak District – Buxton with Burbage & King Sterndale; Penhill Benefice, N. Yorkshire, which covers 7 churches; Penwortham – St Leonard's; Preston – Central Methodist Church; Salisbury area – St Mary's, Redlynch & St Birinus, Morgans Vale; Samlesbury – St Leonard the Less; the United Church in Walpole, Massachusetts, USA; Warton – St Paul's; Wells Cathedral; 'The Grapevine' which covers the doings of the Methodist churches of the South Lakes area and the In Focus community magazine which covers the West Fylde area.
We thank all who've taken the trouble to bring these in and particularly Mr & Mrs Hackett, who deliver them to me by the bagful!
We also regularly receive a copy of the magazine from our twinned Evangelisch-methodistische Kirche in Recklinghausen, Germany.