Living with a LONG-TERM condition: copd
In the UK, it is estimated that 3 million people have COPD, of whom 2 million are undiagnosed. Prevalence increases with age and most people are not diagnosed until they are in their 50s. There are significant geographic variations in the prevalence of COPD, and it is closely associated with levels of deprivation. Unlike many other common chronic diseases, the prevalence of COPD has not declined in recent years. (from National Institute for Health and Clinical Excellence (NICE) online)
A special thank you to Dr Joy Gana-Inatimi (MCSP, SRP, MHCPC, MACPRC, AFHEA): Senior Lecturer at UCLan & Consultant AHP (Chest Medicine and Pulmonary Rehabilitation), the British lung foundation & NICE.
What is COPD? COPD stands for chronic obstructive pulmonary disease. It is the name used to describe a number of conditions, including chronic bronchitis and emphysema, where people have difficulty breathing because of long-term damage to their lungs.
Chronic bronchitis: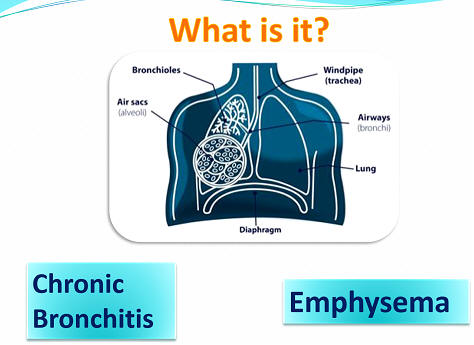 Bronchitis means 'inflammation of the bronchi'. These are the tubes or airways which carry oxygen from the air to the lungs. This inflammation increases mucus production in the airways, producing phlegm which makes you cough.
Emphysema: this is where the alveoli (air sacs) in the lungs lose their elasticity. This reduces the support of the airways, causing them to narrow. It also means the lungs are not as good at getting oxygen into the body, so you may have to breathe harder. This can result in shortness of breath.
What causes COPD? Smoking, environmental exposure, fumes/particles at work, it can run in families and there is rare genetic condition called alpha-1-antitrypsin deficiency makes people very susceptible to develop COPD at a young age.
How is it diagnosed? There is no single diagnostic test for COPD. Making a diagnosis relies on clinical judgement based on a combination of history, physical examination and confirmation of the presence of airflow obstruction using spirometry (breathing test).
What are the common symptoms? Cough, breathlessness, wheeze, phlegm.
How can COPD affect you? Fatigue, anxiety, weight loss, low mood.
Can it be cured? COPD is treatable but not curable. Early diagnosis and treatment can help to slow the decline in lung function and increase the amount of time that people with COPD have to enjoy an active life. Pharmacological and other therapies can help to manage symptoms and disability caused by COPD, and improve the person's quality of life, despite having only limited or no impact on the airflow obstruction.
What can you do to help? There are many ways you can help your COPD.
1. The most helpful thing you can do is to stop/reduce smoking. If you stop smoking the disease progression is slowed down. It is never too late to quit and there is a lot of help available.
Quit Squad - Lancashire Stop Smoking Service
Email: quitsquad@lancashirecare.nhs.uk
Website: www.quitsquad.nhs.uk
2. Attending pulmonary rehab is the second most effective thing you can do to help improve you lung function. You are already on your way to helping your COPD symptoms.

3. A good diet will always help your health but the most important thing to remember is to eat little and often. With COPD you may find large meals too much to handle but you still require the same calorie intake.

4. Correct inhaler technique and use of medication for COPD is essential.

5. You must protect yourself against infections and therefore preventative measures such as the 'flu and pneumovax vaccines are recommended.

6. Knowing how to manage a flare-up (exacerbation) of COPD is vital.

What is a flare up? Also known as an exacerbation, a flare up is a worsening of symptoms. For example becoming more breathless, more wheezy, changes in phlegm (colour/amount), loss of appetite, reduced energy or poor sleep.

What action should you take during a flare up? It is important to get medical advice which would usually be your GP.
Allow extra time to complete daily activities

Plenty of rest

Relaxation

Controlled breathing exercises

Huff and puff to clear phlegm

Eat small amounts often

Keep hydrated, lots of clear fluids
When to call 999?
Ø If you are so breathless you cannot complete a sentence
Ø If you feel drowsy or confused
Ø If there is any chest pain
What are the services available in Preston?
There is a specialist respiratory service based at Royal Preston hospital, this team includes specialist consultants, nurses and physiotherapists.
www.lancsteachinghospitals.nhs.uk/respiratory-medicine
There is also the Adult Community Respiratory Service (ACRS), a team of experienced nurses and physiotherapists who offer a wide variety of services to patients living with a respiratory condition across Preston, Chorley, South Ribble, Blackburn and Darwen.
www.lscft.nhs.uk/adult-community-respiratory-central
Nationwide support (video links);
Follow this link to view an inspiring video about how one lady coped with her diagnosis www.blf.org.uk/support-for-you/copd/world-copd-day
follow this link to hear about living well with COPD support groups
www.youtube.com/watch?v=vy_Q-HEEjAk
Rachel Imms
Lecturer in Occupational Therapy (UCLan)