SHOULD YOU BE VISITING YORK ........?
..........then do keep your eyes open for the hidden gem of St. Sampsonís church: that is, if you can claim to be an Over 60 - or are being accompanied by one! Itís a redundant medieval church now serving as a social centre and it boasts the cheapest food prices in the city. Youíll find it in Church Street, just off Market Place in The Shambles area. What could be more central than that?

The centre is open 10.00am to 4.30pm, Monday to Friday. Hot and cold drinks, snacks and light lunches are available; dine indoors or out in the garden. Daily newspapers are available for you to read; a short service is held in the Chapel at 12 noon on the first and third Wednesdays of each month and there is occasional musical entertainment too.

It is one of the very few churches dedicated to St. Sampson, a 6th century bishop connected with Wales, south west England, Guernsey and Brittany. Having stood derelict in the 1960s, St. Sampsonís took on its new role with help from the Archbishop of York, the York Civic Trust, the Hayward Foundation, the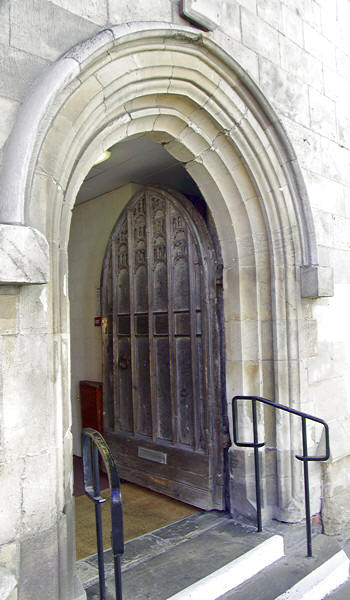 Youth Opportunities Programme, the three Rotary Clubs of York, the three Round Tables of York, and other benefactors and local voluntary organisations. It was opened by Queen Elizabeth the Queen Mother on 13th November, 1974, as shown by a plaque inside the building. There is a small paid staff, but a huge amount of work, particularly on the catering side, is done by volunteers.

St. Sampson, an archbishop of York, was supposedly installed by King Arthurís uncle, Ambrosius Aurelianus after repelling a force of Saxon raiders in the 5thC. The original church dated from the 14thC or 15thC but was largely rebuilt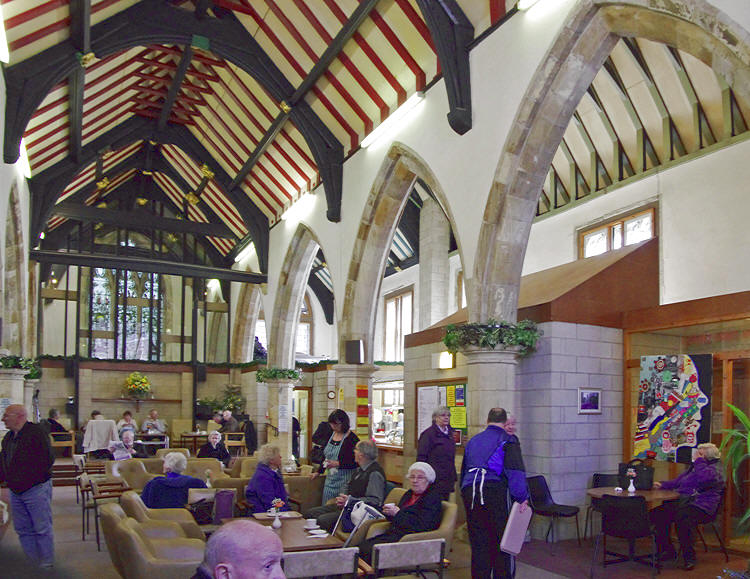 in the 19thC. It still retains its 15thC wooden door. Inside it retains its arcade of octagonal pillars and pointed arches separating the nave from the side aisles. Above is a lovely beamed ceiling with gilded bosses.
With rising costs and a dwindling congregation, the church was declared redundant in 1962. It stood empty until the Archbishop of York felt there should be somewhere warm and dry for the cityís retired people to gather. With the help of the York Civic Trust it became a social centre and meeting place for the over 60s.
If you do pay it a visit, let us know your impressions.
Roy Smith
Additional information and photos from wasleys.org.uk/eleanor/churches/england