Helen Earnshaw
30th June 1919 - 16th Dec 2017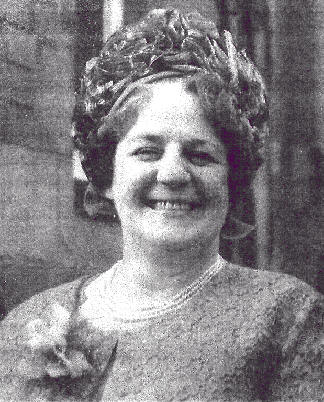 Helen was born in Preston, the sixth child of Anne and Henry Kelly. She recalled a happy childhood in a noisy, busy home. Her mother was from a Welsh Baptist family and her father was a Roman Catholic. The family was brought up in the Catholic faith.
Although the family was large and money was short, Grandma Kelly was always able to feed any visitors who called and the house was known as a place of good food, laughter and happiness.
Although Helen's school life was short, she enjoyed History, English - particularly reading and poetry - and music. She was a keen member of the school choir and her proudest moment was to be chosen to travel with the choir to a competition in Manchester and sing a solo, 'Ave Maria'.
After leaving school Helen worked for a short time at Dick Kerr's lamp works in Strand Road as a glass blower, but soon secured a position as a Receptionist and general assistant to Dr and Mrs Guyer in Waterloo Road, Ashton.
At the age of 18 years, Helen met my father Norman. He was the third of four brothers, Robert, William, and Clifford, and was from a devout Methodist family. They started meeting in secret because they knew that due to their different backgrounds, their relationship would not be favoured by either of their families.
At the outbreak of the 2nd World War in September 1939 Dad volunteered to join the Forces. He was sent to Lincolnshire. In January 1940, Dad was granted three days home leave and they married at Ribbleton Avenue Methodist Church, Preston on 11th January. While her husband was away, Helen moved to live with Grandma Earnshaw and on 7th December 1942, their son Norman was born. In 1946, Helen, Dad and baby Norman moved to their first home together in Skeffington Road, Preston. When Dad was demobbed in early 1948, there was great celebration and life returned to some normality.
After her marriage Helen went to work in the Pattern Room at Horrockses Mill on Stanley Street, Preston. In 1954, Helen and Dad moved the family to Lostock Hall. Dad managed to buy a Ford Prefect motor car which enabled them to visit their families regularly. They also began to enjoy trips to Blackpool, Southport and Lytham, and also Beacon Fell. Every trip out included lunch or tea, or at the very least, cream cakes or ice cream!
Helen started work at Gooby's, a ladies fashion shop in Preston. She loved her work there as it gave her access to lovely clothes and the latest fashions. Helen later moved to work at L&G Modes.
In 1967 Helen and Dad moved to Stour Lodge, Fulwood. It was the scene of regular entertaining with countless dinners and parties and they enjoyed 26 happy years there together. Helen continued to live there another 16 years until 2009.
Helen was a devoted Nana. All three grandchildren enjoyed many happy times with Nana who preferred playing games and baking to housework! With the children she baked countless apple pies, coconut macaroons, and Eccles cakes, and spent hours playing board and card games. Her handbag always contained some new pennies, a pack of cards, small toys and lots of chocolate and sweets.
In 1991 Helen and Dad celebrated their Golden Wedding Anniversary with a large party, but sadly two years later Dad died at the age of 73 years.
Helen was bereft at Dad's death and missed him greatly, but she continued to enjoy life to the full into her 80's. As Helen got older, her memory began to fade. At the age of 90 she could no longer manage to live an independent life and moved into Abraham House in Ashton. Dementia eventually slowed her down. I thank them for their care and kindness during the last 8 years.
She lived life to the full
She loved her garden
She loved the birds and
She loved flowers.
She loved music and had a large collection of music cassettes, but her favourite singer was Elvis Presley.
She loved people,
She loved her family and friends,
She loved fun and laughter, cakes and chocolate, dancing and singing, and above all, being happy.
Hilary Banks