MUSIC EVENTS AT FULWOOD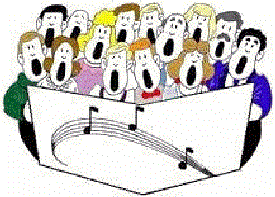 Don't forget our Harvest Concert, featuring the Preston Concert Band on 23rd September at 7.30 PM, Then on January 27th a 'Community Come and Sing' afternoon, from 2.30 - 5.30 has been arranged led by Jeff Borradaile and friends from Blackburn People's Choir. This will be followed by an open evening concert.
Last year's event was hugely popular when Jeff and friends from Blackburn came to share another singing workshop with us. The event is for anyone who loves to sing. No experience necessary – just a willingness to join in and have fun.
In the evening the male voice group Maelstrom and the ladies group Decibelles, who are part of the Blackburn choirs, will entertain us and we hope that those who were at the workshop will once again be able to join in a couple of the concert items.
The workshop will cost £12 and this includes a ticket for the evening concert whilst the concert tickets for those who just want to enjoy a super evening will be £8. Accompanied children no charge.
If you missed the concert last year, you missed a treat! Just ask those who did come! All the money raised will go to Methodist Action NW for their work with the homeless.
The other music treat, for more experienced singers this time, is a return visit of John Rutter. This is an event organised by the Association of British Choral Directors and will be at Fulwood Methodist Church on April 28th next year. There will be booking forms available from October onwards and I shall make sure we have some at church for those keen to come. Do please tell your musical friends about both of these events.
Mavis Fletcher