EDINBURGH FRINGE BECKONED
FOR EMOTIONAL LANCASHIRE WW2 PLAY
Members of The Church of England in Lancashire and Lancashire Methodist Church District followed in the footsteps of Peter Cook and Dudley Moore; Stephen Fry; Tom Stoppard; Derek Jacobi and a whole host of other famous names who have performed at the Edinburgh Festival's famous Fringe.
A short play, 'Home Front / Front Line', written by Rev. Canon David Banbury from Leyland, who is the Church of England Diocese's Parish Mission Support Leader, was the reason for the week-long run this August in Scotland's capital city.
Home Front/Front Line, produced in association with Blackburn Creative Arts group was a 50 minute emotionally-charged look at life in World War 2 through the eyes of a young couple, Lizzie and Tom, who served their country in the Women's Land Army at home and on the front line abroad.
The Fringe appearance came about after a conversation between David and a friend of his who had seen the play and thought it was ideal for the Fringe.
After some serious prayer, the decision was made to make the approach to the Fringe organisers. They agreed straightaway. Costs – including accommodation for the actors – were met through the generosity of local churches in Edinburgh.
David said: "I'm absolutely thrilled we have been able to take the play to the Edinburgh Festival Fringe. It's amazing to think that a lad who failed English at school should end up writing a play that appeared at such a famous event! We have already performed the play in a number of churches as part of 1940s weekends across Lancashire and Greater Manchester and people who see it find it to be a heart-warming and moving story, with a clear Christian message at the heart of it. Taking our little show on a big new adventure to the Fringe was an amazing opportunity to share the play with a much wider audience."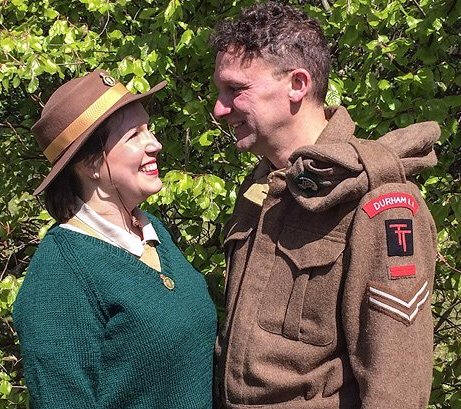 Kirsty Gwyn-Thomas, from Buckshaw Village near Chorley, played the part of Lizzie, and said: "Home Front/Front Line tells the extraordinary events of WW2 through the lives of two ordinary people. My character is a young woman who goes from a dull office job to helping to run a farm in wartime. The play highlights the massive changes that happened in peoples' lives during the war."
Paul Critchley, a Methodist Minister in Poulton-le-Fylde, who played the part of Tom, added: "I found it a very moving story and playing Tom, whose life is totally changed by the war, was a great privilege. Being able to perform at the Fringe is a thrilling development we couldn't have anticipated when we started out."
The story of Lizzie and Tom is based on diary entries, letters and official historical records from the Durham Light Infantry, and the stunning multi-media presentation seeks to celebrate love, commitment and faith in the face of separation, hardship and conflict.
David Banbury also wrote 'Brothers in Arms,' a deeply moving play set during the First World War and produced by The Church of England in Lancashire and the Lancashire Methodist Church District. That play tells the remarkable story of identical twins Noel and Christopher Chavasse, sons of the then Bishop of Liverpool, who served together with great distinction on the Western Front in World War 1. It toured Lancashire in 2015 and 2016 and further dates are booked later this year.